Rwanda has allocated US$27mn for drilling three geothermal wells on the southern slopes of the Karisimbi volcano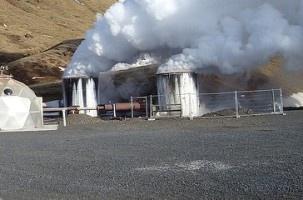 Contracts for the project's drilling services were awarded early in 2012 to several Rwandan and international companies. (Image source: ThinkGeoEnergy/Flickr)
Energy, Water and Sanitation Authority (EWSA) head of geothermal development, Uwera Rutagarama, told The New Times that drilling is scheduled to begin on 15 April 2013, and is expected to last about six months. The exercise was scheduled to start in December last year but was delayed due to technical issues.
"We are currently looking at Karisimbi geothermal prospect in Nyabihu district," said Rutagarama. "We are planning to drill three exploration wells to three kilometers depth. If the exercise becomes successful, the pilot phase will see production of 10MW of energy."
Rutagarama said that to achieve the target, contracts for drilling services were awarded early in 2012 to several local and international companies.
"The contracts were awarded to the Great Wall Drilling Company, a Chinese firm, the supply of drilling materials will be handled by China Petroleum Development and Technology Corporation (CPTDC), rehabilitation of the road to the drilling site will be undertaken by ERGECO, a local firm, and the water supply to the site and civil works will be done by Yashinoya, a Kenyan company," she explained.
Rutagarama noted that the geothermal energy exploitation will involve extracting hot water from geologically active areas and using it to provide heat to generate electricity.
Preliminary findings in early 2011 by the Kenya Electricity Generating Company (KenGen), which was contracted in 2010 to conduct a thorough surface exploration of geothermal energy, estimated that Rwanda's geothermal potential was more than 700MW.
Rutagarama said that previous studies have identified four main geothermal prospects in the areas of Karisimbi, Kinigi, Gisenyi and Bugarama and the plan is to generate 300MW from geothermal sources by 2017.