MASDAR, the Abu Dhabi future energy company, and the Zambian Government-owned national power utility, ZESCO, have signed a memorandum of understanding (MoU) and a joint development agreement to develop renewable energy in Zambia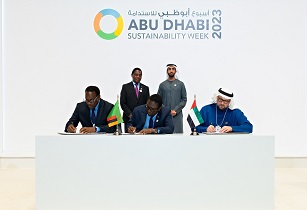 The agreements were signed at Abu Dhabi Sustainability Week 2023. (Image source: ZESCO)
In a phased approach, a total of 2GW of capacity will be unlocked through the agreement, starting with the installation of 500MW. It will see the development and deployment of solar projects across the country to complement the hydro energy base that Zambia is reliant on.
Diversifying its energy portfolio is a key target of ZESCO, and this development will help the country move away from the legacy of over-reliance on hydro power, which has seasonally failed to yield adequate power to meet demand resulting from the decline of rainfall occasioned by climate change.
It is anticipated that once these projects are established, there will be an improvement in power security resulting in more investments and economic growth for Zambia.