Building Energy has won new contracts to develop renewable energy projects in South Africa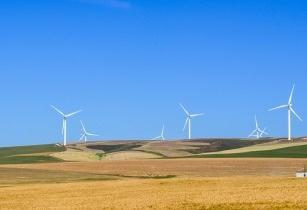 A 140MW wind farm in Roggeveld, near South Africa's Western Cape, will produce 590 GWh per year. (Image source: jbdodane/Flickr)
The Italian group, which specialises in clean, sustainable power generation, will develop two power plants – one wind and the other hydro-powered.
With the new deals, combined with previously-awarded contracts for solar and biomass facilities, Building Energy has become the first company to work on projects utilising four different renewable energy technologies.
The 140MW wind farm will be constructed in the Roggeveld area, located between the Northern and Western Cape Provinces, and will have a capacity of 590 GWh per year, the company said.
The hydro project in Kruisvallei, Free State Province, will be smaller, producing 36 GWh per year, at full capacity.
"We are excited about the news of being awarded the Roggeveld wind project and the Kruisvallei small-hydro project and honoured that South Africa has decided once again to rely on our company," said Matteo Brambilla, managing director of Building Energy in Africa.
The group's other South African projects – a solar farm in Kathu and a biomass facility in Mkuze – were also contracts awarded as part of the Department of Energy's Renewable Independent Power Producer Procurement (REIPPP) Programme.