While change is now a constant in Africa's energy market as the transition to cleaner technologies gathers momentum, demand for modern genset power systems appears as robust as ever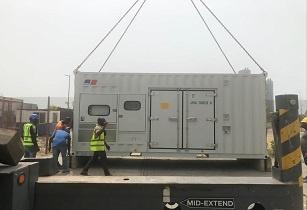 One of the two 1,000kVA diesel generators that power the residential skyscrapers at Azuri Towers in Nigeria. (Image source: Rolls-Royce plc)
In a continent where reliable power is not taken for granted, gensets have long filled a gap, providing crucial energy and peace of mind for industrial sites, hospitals, residential users, and many others. These gensets power, or provide back-up, to some of Africa's most vital industries, ranging from remote mining sites to offshore oil platforms.
The solidity of the market is reflected in providers continuing to seek out opportunities on the continent. For instance Rolls-Royce Power Systems, from its headquarters in South Africa, is planning to strengthen its presence in eastern and western African markets offering the complete Rolls-Royce product portfolio for power generation. This includes mtu diesel and gas gensets, UPS systems, battery containers and complete decentralised energy systems.
Some of its mtu diesel gensets were recently installed to power Lagos's three 140 metre-high Azuri Towers. Two emergency gensets based on mtu engines now guarantee that the electricity never fails at this flagship development.
Read the full article complete with examples from Clarke Energy, MAN Energy Solutions, Caterpillar and more in the April issue of African Review.