Ghana is expected to report a recovery of growth in 2017-18, with increased oil production being among the contributing factors, according to an International Monetary Fund (IMF) executive board review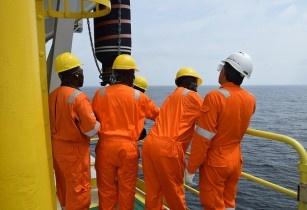 Eni's Sankofa project has contributed to an optimistic oil outlook for Ghana. (Image Source: Eni/Flickr)
This year, Ghana's oil production is expected to average around 200,000bpd, with production from Eni's Sankofa field playing a significant role after going onstream three months ahead of schedule. The promising production figures have been recorded despite shutdowns at the Jubilee FPSO facility for repairs to a damaged turret and to address an unrelated technical issue.
Tao Zhang, deputy managing director and acting chair, said the Ghanaian authorities "should tackle energy sector inefficiencies, particularly improving the management of the state-owned enterprises (SOEs)."
"Ongoing debt restructuring efforts are helpful but are no substitute to stemming the SOEs' ongoing financial losses and put them on a sustainable financial path," he added.
As well as increased oil production, the IMF review cited "declining inflation and lower imbalances with the right technical implementation" as other factors for a more optimistic outlook for 2017-18 in the West African country. The review enables the disbursement of about US$94.2 million bringing total disbursements under the arrangement to about US$565.2 million, with the remainder being tied to the remaining reviews. Ghana's three-year arrangement for disbursements worth about US$918 million was approved in April 2015. It aims to restore debt sustainability and macroeconomic stability in the country to foster a return to high growth and job creation, while protecting social spending.