Liebherr will showcase its latest innovations first-hand, which range from construction machines, material handling, mining and components at bauma 2019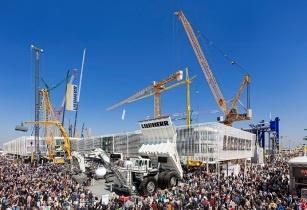 The Liebherr Group's stand at bauma 2016. (Image source: Liebherr)
The company will present all the latest product developments and innovations from across the whole range of construction machines, material handling and mining, as well as components.
At Bauma 2019, Liebherr will debut a new series of Tower Cranes with fibre ropes which will be available for sale starting in April. This new, high-strength fibre rope is around one-fifth the weight of conventional steel rope, but has four times the lifespan and is much easier to use. Liebherr will also unveil five new mobile cranes at the trade fair.
These build on proven technologies to provide better performance, efficiency and flexibility. The construction machine manufacturer will also present a new crawler crane with a load capacity of 300 tonnes. It features innovative assistance systems that increase safety and make it easier to handle.
"Visitors can also find out more about internships and entry-level positions with Liebherr at the Career Point on the company's outdoor stand as well as in the ICM Foyer (stand 308)," said the company.