Drawing on its long history of developing and supplying mixing plants for concrete production, Liebherr will present the new edition of Betomix at Bauma 2022, arriving in Munich from 24-30 October 2022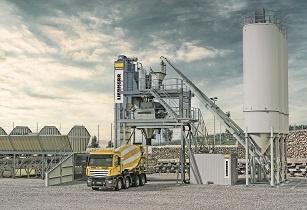 The new Betomix from the modular kit is presented to the public for the first time at Bauma. (Image source: Liebherr)
The mixing plant will be originally available in Germany, Austria and Switzerland but will launch globally soon after.
The mobile design of the new mixing plant generation is marketed under the name of Mobilmix. Thanks to the practical modules, it can be moved to another construction site very quickly and customers can decide for themselves to what extent the mixing plant should be mobile. The following versions are possible for mobile use: steel foundation, integrated technical container for wiring at the factory, a mobile in-line silo on steel foundations inclusive of folding chamber walls and mobile cement silo, also on steel foundations.
In order to provide more freedom when configuring plants (as well as shorter delivery and assembly times) the new Betomix and Mobilmix mixing plant series can be flexibly combined using prefabricated modules.
The new concept is based on a consistently implemented modular design. Individual modules can be planned and manufactured independently of each other and combined with other modules. They are almost completely wired and fully assembled at Liebherr.
The module dimensions are optimised and are maximum three metres wide. This makes special transports superfluous for almost all plant variants. Due to their innovative folding concept and plug connections, the modules can be quickly and efficiently assembled and put into operation at the construction site.
Output rates of 100 to 210 cu/m of compacted fresh concrete per hour are possible. Multiple optional accessories can be integrated without additional effort. Various storage facilities for the aggregates can be incorporated, such as a tower silo. Even the optional winter cladding is standardised for all variants. Everything can be combined.
In order to achieve energy savings of up to 30%, the frequency converters control the drives for the mixer and charger elevator and optimise the mixing process as a whole. Hybrid mixing processes and shorter mixing times are easy to implement, avoiding power peaks. Also, wear is considerably reduced due to the soft starting and soft stopping of the drives.
The frequency converters offer the greatest and most important potential in the dosing of cement with an accuracy of +/- 0.5%. With a typical recipe with 300kg of cement per cubic metre of concrete, up to 7.5kg of cement can be saved.
All accessible areas of the mixing plant are generously sized and offer sufficient space, ensuring simplified maintenance and cleaning. There is also enough space for the arrangement of additional containers, such as for steel fiber dosage. The completely revised mixer high-pressure cleaning system 'LiClean', together with the 'creep speed' cleaning mode, enables optimum cleaning results with a high level of safety. Furthermore, upon request, there is an automatic cleaning system for the truck mixer feeding hopper. Liebherr customers have already been able to be impressed by the LiClean cleaning system, saving much water and time.