Mobile crane hire company Johnson Crane Hire (JCH) has embarked on an expansion programme that will see it purchase new cranes and upgrade or replace the company's older units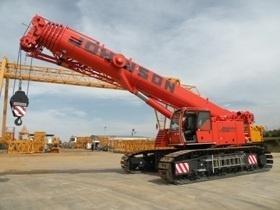 JCH, which credits itself on launching the latest crane technologies, has 20 cranes in its heavy lift fleet. (Image source: JCH)
Johnson Crane Hire managing director Lalith Senarathne said, "We've positioned ourselves as a company that not only operates the largest fleet in sub-Saharan Africa, but also continues to introduce new crane technology to the local market.
"The needs of our customers are constantly evolving and we are working towards meeting their requirements by regularly introducing innovations to the fleet.
"We have conducted unique heavy lifts in South Africa and operate the largest heavy lift fleet in the country. We have more than 20 cranes ranging in size from 180,000kg to 750,000kg in our heavy lift fleet," he added.
Most of the company's cranes have been supplied by Liebherr, with several purchased from both Tadano and Grove. In 2011 JCH had purchased its 100th Liebherr crane.