As part of its enterprise strategy to support customers during the energy transition, Caterpillar has announced the development of 48 volt, 300 volt and 600 volt batteries for the off-highway industry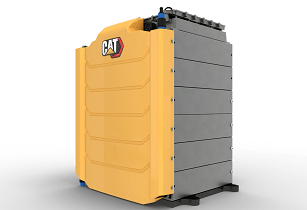 Caterpillar is developing 48 volt, 300 volt, and 600 volt batteries that support industrial-power customers during the energy transition to a lower-carbon future. (Image source: Caterpillar)
The battery range uses lithium-ion technology and features a modular design to optimise performance and packaging. Furthermore, they have been engineered with sustainability in mind throughout their lifecycle, with the potential to reuse and recycle at the end of life.
The development programme also encompasses inverters, motors, electronic controls, digital services and other critical technologies to deliver the performance, reliability, durability, maintainability, and long-term value needed for equipment buyers working in harsh operating environments.
Caterpillar will showcase prototypes of its battery technologies in hall A4, stand 336 at bauma 2022, which will be held October 24-30 in Munich, Germany.
"Caterpillar has demonstrated a long-standing commitment to sustainability through improvements in our operations and by helping our customers achieve their climate-related goals," said Steve Ferguson, senior vice president Caterpillar Industrial Power Systems. "Today's announcement of our battery programme is our latest step in combining a wide-ranging inventory of innovations with extensive knowledge of the off-highway industry to offer solutions for a range of power needs, application types, duty cycles and operating environments."
The announcement is in line with Caterpillar's commitment that 100% of its new products through 2030 will be more sustainable than the previous generation.