Experts from Perkins Engines walk through the dos and don'ts of engine maintenance to help users keep their equipment functioning effectively for longer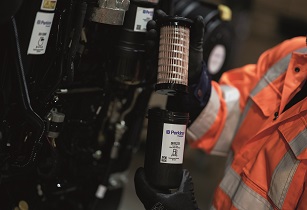 Filters are the first line of defence against contaminants. (Image source: Perkins Engines)
It is really not that difficult to get the most out of a modern diesel engine, but it does take a bit of planning and effort. Probably the most important thing a user can do is to develop, and then stick to, a preventive maintenance programme that includes daily checks and regular inspections.
Things that should be checked every day include air filter and pre-cleaner condition and emptying the precleaner if necessary; cooling system coolant level; engine oil level; fuel system primary filter; DEF condition and level; drain water from the water separator; and driven equipment, belts and electrical system.
Then, do a walk-around inspection of the machine, paying special attention to guards and the drive system. Users should also make sure there is plenty of airflow for the cooling system. That is particularly important in hot weather, but also in winter when snow or ice might obstruct intakes.
But, don't be tempted to open access panels or other parts of engine enclosures to 'let in more air'. That can actually make things worse by disrupting the engineered airflow pattern around the engine and cooling system while allowing dirt, dust and other contaminants to more easily reach the engine. There are a few other things that users should not do:
• Don't top off the coolant with plain water
• Don't use expired DEF, or DEF stored more than a year in hot or cold conditions
• Don't put anything but DEF in the DEF tank
• Don't pour cold fuel into a hot fuel tank, it can cause water condensation.
Read the full article – complete with advice on problem indicators and engine killers to avoid – in the February issue of African Review here.