Mantrac Group is on hand to ensure users are able to find the right generator sets to meet their business needs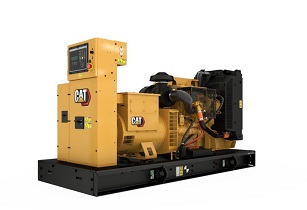 Every solution comes from generations of engineering and tried-and-tested technologies. (Image source: Mantrac)
Genset sizing is part science, part art. There are many variables to consider during the selection process – location, footprint, load types, distribution – just to name a few. Whatever the power need, Mantrac Group provides consultations and tailored solutions for the most affordable and efficient genset. With a decades-long history of providing efficient and tailor-made solutions, Mantrac is a leading supplier of gensets across the world's markets.
Mantrac's goal is to deliver systems that meet requirements and are proven to be reliable, bringing users maximised uptime and bottom-line power savings. Mantrac uses Cat, an industry leading manufacturer of gensets and systems.
Finding the right genset for business needs is easily done in three simple steps with the Cat power hub tool. With the power hub, users can size a genset to find the right one for their power and project needs, explore Mantrac's local inventory, build and customise their own genset to perfectly fit their needs and access a set of calculators to assist in planning genset installation.
Performing under pressure
Every Cat genset is a product of perfected engineering, bringing customers the highest possible standards of reliability and efficiency. Businesses around the world depend on Cat's premium range for a diverse range of applications, including commercial operations, utility, Combined Heat and Power (CHP), landfills, wastewater treatment, coal mining and construction.
Cat gensets are designed to provide performance under pressure, even in the most extreme and rigorous operations. Tested as individual parts and as a whole at over 100% of rated load emission compliance, Cat genset owners save time and costs of routine emissions compliance checks.
Mantrac's dependable solutions have helped power everything from shops and buildings to entire industries and cities across Africa, the Middle East and Western Siberia across applications, including construction, mining, data centres and defence. Every solution comes from generations of engineering and tried-and-tested technologies, assuring Mantrac customers across industries that their operations will stay powered.
Mantrac is committed to their customers' operational success: it offers expert advice with end-toend services, including installation, customisation, and long-term support. Its power systems experts are on hand to look at client's space to provide the optimal gas genset and containment solution, ensure selection of most feasible genset configuration, and calculate long term project's financial (OPEX, ROI, NPV, IRR).
Plus, business with Mantrac ensures customers have access to quick maintenance and repairs. Training of personnel to operate equipment with minimal wear and tear is also available, as is complete overhaul with experienced Cat-certified professionals.
In addition, Mantrac offers credit and financing, short-and long-term rentals, and industryleading warranties to ensure its customers continue to operate with peace of mind, 365 days a year.
Use the power hub tool and chat to Mantrac Group's power systems experts now at: https://www.mantracgroup.com/power-hub/