Complete with detail improvements, new options and interfaces, Hamm has unveiled the HX series to replace the previous DV+ series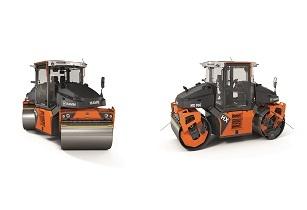 The panoramic cab provides a view of the drum edges in any direction of travel. (Image source: Hamm)
Designed for asphalt compaction, the HX 70i model (7 t/55.4 kW) and HX 90i (9 t/74.4 kW) achieve high surface outputs on large construction sites and can carry out difficult tasks such as compaction in curves with a high degree of precision. Here, the pivot steering shows its strengths with a large turning angle, large track offset and four different steering modes.
The intelligent drive control with automatic reversing works in combination with the electrically adjustable seat operating unit to guarantee quality and comfort. The seat also turns automatically in the direction of travel when reversing.
New LED turn indicators and details around the cab give the HX series its distinctive design. The fully glazed panoramic cab offers an improved field of vision with an excellent view of the drum edges. Optionally, lighting for drums and drum edges can be added. A camera system with two robust monitors (IP 67) are integrated as standard to provide optimal vision. Thanks to division of the screen, views to the front and to the rear are always visible regardless of seat position.
The Easy Drive operating concept combines an ergonomically optimised operator's platform with the operating structure, including language-neutral and self-explanatory operation for the HX series. Steering is performed with the steering wheel; all other important functions are operated via a joystick and the multifunction armrest.
A revised dual-circuit additive mixing unit for the combination rollers saves water and increases the range, as the sprinkling system at the front and rear are controlled separately. Water and additive can be sprayed separately or as a mixture. For spreading surface courses, Hamm has improved chip spreaders in its range for the HX series. All models have the option for height adjustment. Optionally, an innovative lowering device is available, making installation and removal possible without a forklift truck or crane.
The Smart Compact compaction assistant can be used in the rollers of the HX series. The system decides compaction automatically and individually for each drum. The driver then only has to enter whether a base, binder or asphalt surface course is to be compacted. The assistant evaluates data about the condition of the asphalt, optionally incorporating local weather data from an integrated weather station.
The engines work at a lower speed of 1500–2000 rpm, which reduces fuel consumption as well as noise and exhaust gas emissions. Here, powerful travel pumps ensure high compaction power. Furthermore, Smart Compact contributes towards sustainability with the assistant saving up to 15% of fuel and the rollers can be operated with diesel or HVO fuel.
The HX series rollers are available with 7t (HX 70i) and 9t (HX 90i) operating weight. Among the nine total versions are models with two vibrating roller drums, an oscillation and an vibrating roller drum as well as combination rollers. Here, the vibration and oscillation drums are made as a split or non-split drum depending on the model.