ACCIONA has started to use Digitunnel, a new real-time technology to provide better control and ensure progress in the tunnel's construction of its projects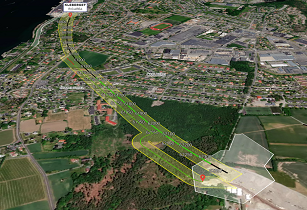 The technology has been tested locally in a project that ACCIONA has in Norway. (Image source: ACCIONA)
The solution collects and integrates enormous amounts of real-time information generated at the project site and transforms this data into meaningful information that is made available to all parties involved. The data can be accessed on computers or mobile devices via a web-based platform and provides immediate information about the project's progress, gives increased safety for workers, and reduces the need for paperwork and manual control.
Using Digitunnel, it is possible to quickly get an overview of how many people and vehicles there are always in the tunnel, while the system also monitors the air inside the tunnel. If, for example, there are dangerous gases in the tunnel, it will immediately detect the threat to help keep nullify it as soon as possible.
By automating processes, the Digitunnel frees crucial time, reduces the chances of something going wrong and enhances budgetary control.
The technology has been tested locally in a project that ACCIONA has in Norway and it will be used soon in other projects around the world.