Built utilising Sandvik's Prisec technology for primary or secondary applications, the QI353 mobile impact crusher is capable of processing up to 400 TPH, while reducing fuel and energy consumption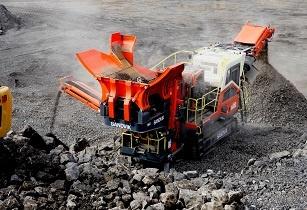 The Sandvik QI353 is fitted with the latest generation fuel-efficient powerpack. (Image source: Sandvik)
At the core of the QI353 is a new mid-size Prisec impact crusher, which boasts a feed opening of 1170 mm x 730 mm and a rotor diameter of 1150 mm, for higher capacity and greater energy efficiency. Initial test results have shown up to 16% energy reduction in comparison with previous models.
Fitted with a host of safety features, QI353 offers 3-sided 270° service access with ground level maintenance points including a new rear access platform, a patented rotor locking and positioning device and a unique four key trapped system for safe inspection.
The optional HS323 hanging screen module has been enhanced to accept belt scales for TPH monitoring on fines and stockpile belts. It can be set up in less than 30 minutes; requires no additional lifting equipment; and is multi-functional as a 1-,2- or 3-way screen.
Operations are in the customer's control as the QI353 is fitted with the brand new Optik intuitive user experience which offers simplified operation controls and total integration with My Fleet telematics solution. This allows clients to maximise uptime and optimise decision making with real time information, boost output with diagnostic assistance and enhance troubleshooting with pre-installed guides and accurate data collection.
The Sandvik QI353 is also fitted with the latest generation fuel-efficient powerpack which provides maximum performance and cost efficiency. The double-deck pre-screen maximises crusher throughput, reduces wear costs and energy consumption. As a result, 40% less hydraulic oil is required per service and up to 64 % less hydraulic oil is consumed over 10,000 hrs of machine usage (subject to oil sampling).