Norilsk Nickel has served notice that it intends to commence legal proceedings in Botswana against the Government of Botswana in respect of its involvement in the reckless trading of BCL Limited and BCL Investments Proprietary Limited (BCL), with a view to recovering the US$271mn (plus damages and other costs) that they are owed in relation to the sale of a 50 per cent interest in the Nkomati mine in South Africa and the US$6.4mn they are owed in relation to the sale of the Tati mine in Botswana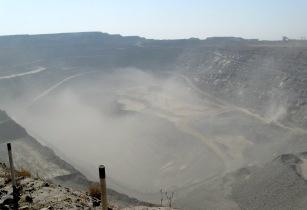 The Jwaneng Open Mine. (Image source: Cretep/Commons)
The Government of Botswana is the ultimate shareholder of BCL through its corporate vehicle MDCB.
The notice was served under section 4 of the State Proceedings (Civil Actions by or against Government or Public Officers) Act and was served on the Attorney General of Botswana, the Minister of Mineral Resources, Green Technology and Energy Security, and the Minister of Finance.
Norilsk had agreed in October 2014 to sell their operations in Africa to BCL for a total price of US$337mn, though that amount was later reduced when Norilsk agreed to price concessions requested by BCL and the Government.
The Nkomati deal, announced by BCL as a strategic priority as part of its high-profile "Polaris II" diversification and investment strategy, was designed to guarantee the long-term future of BCL's operations by securing the supply of concentrate to its smelter in Selebi Phikwe, Botswana. The Government was involved in or approved all material decisions relating to this transaction.
It is well known that BCL had always historically relied on financial support from the Government to survive and, in view of BCL's financial position, it was clear that most if not all of the funding for the Nkomati deal would have to come from or be guaranteed by the Government.
Norilsk Nickel Africa CEO, Michael Marriott, said: "The Government has displayed a complete disregard for the fair, frank and reasonable dealing with outsiders which BCL's insolvent circumstances demanded. It has failed to honour the obligations under the sale agreement concluded with Norilsk in October 2014.
"Throughout the process Norilsk has acted in good faith, and given the Government and BCL repeated opportunities and offers of assistance to complete the transaction, including concessions to significantly reduce the sale price.
"Botswana has a reputation as one of the safest and best places to invest in the whole of Africa and it has earned the strongest credit rating on the continent on that basis.The way that the Government of Botswana has acted over BCL brings the validity of that reputation into question.The negative ramifications could be felt across the economy of the whole country.