The positive climate for mined commodities is giving the Democratic Republic of Congo (DRC) great opportunities to leverage its resource wealth, but there are a number of burning issues that mining companies there are facing, explains Wouter Jordaan, partner and principal environmental scientist at SRK Consulting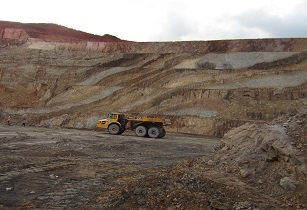 A mine in the DRC. (Image source: SRK)
"The DRC has long been an exciting mining destination, and our SRK Consulting Congo practice has seen considerable progress over the ten years since its establishment," says Jordaan. "Among the issues we are working on with clients is the relationship between mining companies and communities."
An important aspect of this is the regulatory requirement for a social development plan that is developed in consultation with communities and stakeholders.
"There is often a cultural and communication gap between mines and communities that makes the necessary levels of collaboration difficult," he commented. "We have seen that the industry often needs expert local support in building appropriate relationships with communities and stakeholders. SRK is well positioned to do this, due to our established presence in the DRC – as well as in countries like China who are very active on the DRC mining scene currently."
Mine closure is also a growing issue, which is broadening to include the need for 'social transitioning' to a post-mining phase. In this regard, the DRC industry's current focus tends to be on compliance with the environmental aspects of closure, through the establishment of a fund to be drawn on for rehabilitation at closure. Jordaan notes that mines start to provision for such a fund at a conceptual level during the feasibility stage.
"This approach ensures that the financial guarantee is in place, but the closure plan itself is often not very detailed. Moreover, these plans do not currently pay much attention to the practicalities of social transitioning towards closure. Good practice today encourages mines to start very early in their engagement with communities about closure, as the resilience of livelihoods cannot be built in just five to ten years."
He points out that increased exploration work in the country, both for new projects and to expand existing operations, has also heightened the need for independent and accurate mineral resource and reserve estimations. Various codes are used in the DRC, depending mainly on where the project owner is located or listed.
International standards are increasingly being applied in tailings dam management globally, and there is expected to be greater attention paid to these in the DRC. The Global Industry Standards for Tailings Management (GISTM) have set a compliance deadline of August 2023 for all facilities with 'extreme' and 'very high' potential consequences of failure.
"There are quite a few tailings dams in the DRC which can be classified as 'extreme' and 'very high' in terms of the potential environmental and social consequences of an incident," he remarks. "This means that they will be under some pressure in coming months to finalise their compliance measures, while other tailings dams in lower categories will have to conform with the GISTM within two years."
Andrew van Zyl, SRK Consulting managing director, adds that as the sector better understands its impacts, it is continuously improving the way it runs operations – including the development of local skills.
"Local regulations around Africa are now making the localisation of skills and supply chains more of a priority," said Van Zyl. "Like all the practices in our global network, SRK Consulting Congo is locally staffed and owned, and builds its skill levels and disciplines on an ongoing basis."
The office's depth of experience in mining engineering and environmental, social and governance (ESG) issues gives it one area of focus – but it is also involved in other fields and is always looking to boost its geotechnical and geohydrological capacity.