Swedish vehicle manufacturer Volvo Construction Equipment has released the R60 Rigid Hauler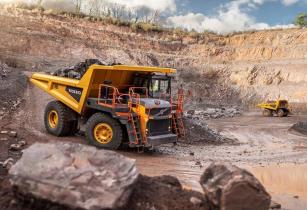 The new Volvo R60 Rigid Hauler. (Image source: Volvo)
The R60 is based on the R100E model, and is designed to handle higher payloads and greater uptime. The machine also comes with a durable design, said Drew Watson, global product manager for the Volvo R60 at Volvo CE.
"The Volvo R60 offers a 55-tonne payload and body volume of 36m3, enabled by a V-shaped body ensuring optimum load retention and minimal material carry-back.
"The rigid hauler is a perfect match for a 90-tonne excavator and meets the industry standard of 10/10/20 where it can take 10% overload for 10% of the time but should not exceed 20%.
"To help operators haul the optimum amount of material, an optional On-Board Weighing system provides real-time payload insight to the hauler operator via the on-board display, and can predict the 10/10/20 payload."
The R60 comes with automatic gear selection and ECO mode which enables the hauler to default to the most efficient gear shifting schedule. It also features an auto engine-idle shut-down.
Apart from this, the hauler is made with a flexible chassis and responsive MacPherson strut with lower wishbone connection to absorb shocks and vibrations and improve the operator ride.
The Volvo R60 is equipped with two retardation systems to keep a steady speed and facilitate machine navigation when going downhill, reducing the need for operator input. When manually selected, the transmission retarder slows the drivetrain to limit wheel lock-up, particularly useful on steep declines or in wet conditions.
It also has on-board diagnostics, which provide insights into system pressures and temperatures, and fault reporting to facilitate and speed-up troubleshooting. The 44,820kg hauler moves with a maximum speed of 60.6 km/hr and needs to be serviced only every 500 hours.
It has added safety features, which include a 360° birds-eye view of the work zone, apart from anti-slip steps and walkways. Apart from this, the machine is fitted with Roll/Fall-Over Protective Structure-certified (ROPS/FOPS) and features a left-positioned operator station to aid safe passing.