Trelleborg Sealing Solutions has launched the new MFS Nexus mechanical face seal for improved performance and increased service life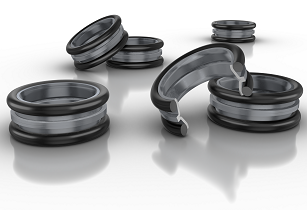 The MFS Nexus mechanical face seal is easy to install and does not require any specialist tools. (Image source: Trelleborg Sealing Solutions)
According to Trelleborg, the MFS Nexus seal is ideal for drive systems, gearboxes, and undercarriages in construction and agriculture applications where excavators operate at low rotational speeds and the risk of wear and ingress of contaminants is high. The seal is also capable of protecting the bearings of machines used for other heavy-duty work, including tunnel boring and mining.
Nicolo Olivetti, product manager at Trelleborg Sealing Solutions, commented, "The MFS Nexus mechanical face seal delivers exceptional performance under some of the most aggressive working conditions. Our team of engineers has worked closely with customers to determine where points of failure most often occur and what can be done to eliminate unexpected downtime.
"By using the new MFS Nexus mechanical face seal, excavators and other machinery can continue working without risk of damage or contaminant ingress, issues that can not only delay projects but can also cost businesses more in servicing and repairs over time. Offering this level of durability represents a step-change for heavy industry."
The simplified design of the MFS Nexus seal incorporates two spring steel rings mounted face-to-face on a lapped seal face within specially designed housings, as well as two elastomeric O-Rings to centre the metal rings within the housings. The seal protects the inner shaft and other important components from debris while also preventing inner lubricants from escaping.
The unique light and flexible spring steel material used for the housings is an alternative to traditional bearing steel and cast-iron rings, providing flexibility against mud compression which over time can degrade components and shorten an asset's expected working life. It also has increased sealing performance for applications where peripheral speed is limited.
Trelleborg has stated that testing has shown the MFS Nexus seal to demonstrate exceptional performance in tough conditions. After 2,000 hours submerged in mud at rotational speeds of one meter per second, the seal continued to work effectively without any sign of failure. Further testing also revealed minimal contamination to the machine's oil lubricant, with the presence of iron, lead and other impurities well within acceptable limits.
The MFS Nexus mechanical face seal is easy to install and does not require any specialist tools due to its conventional geometry. It operates at speeds of up to 1.5 meters per second at temperatures up to +200 °C/+392 °F and up to 3 bar as differential pressure. External diameters range from 50 to 460 millimeters. Elastomeric O-Rings are available in a range of material types including Nitrile Butadiene Rubber, Hydrogenated Nitrile Butadiene Rubber, Silicone, and Fluoroelastomer.