A fluorite mine outside Pretoria, South Africa, has become the first recipient of Sandvik Rock Processing's first locally manufactured SmartPlant in Africa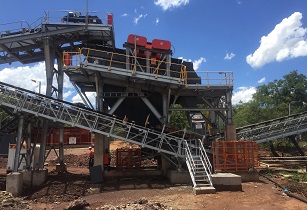 The modular approach of the SmartPlant meant that the customer could tweak design parameters such as height, capacity and liner profiles. (Image source: Sandvik)
To improve efficiency and productivity, a South African fluorspar producer went into the market for a new processing plant in 2020 and opted for the SmartPlant concept from Sandvik for its fast delivery time, flexibility and cost savings. SmartPlant is a range of pre-defined Sandvik SmartStations that can be mixed and matched to meet individual customer needs for maximum productivity and performance.
Jaco Benade, project manager – crushing and screening at Sandvik, explained that the deal was negotiated midway through the Covid-19 hard lockdown of 2020. The order was placed during Level 5 of the lockdown, with manufacturing commencing during Level 4. Despite the challenges brought about by the travel restrictions, compounded by the global supply chain disruptions, the plant was still delivered on time, within budget and with no lost time injuries.
"A major talking point of the project was the short delivery time of 22 weeks ex-works at a favourable capital cost for the customer," said Benade. "The SmartPlant concept allowed the customer to choose from the pre-defined SmartStations, combine and configure them to meet specific site and operational needs, with no extra design and engineering costs."
The new plant comprises a full suite of Sandvik equipment, including jaw and cone crushers, screens and feeders. Informed by customer needs, Sandvik opted for a much bigger front-end of the plant, comprising a large tip area and bigger jaw crusher. The Sandvik CJ412 primary jaw crusher, which takes a 750 mm top size, is fed by a box bin and a grizzly feeder.
The plant also employs two Sandvik CH840i cone crushers for secondary and tertiary crushing, the very first units of the company's 800i series range of cone crushers in Africa. Another first in Africa is the rotary feeder on top of the cone used to distribute material into the crusher.
The CH840i cone crushers come with Sandvik's Automation and Connectivity System (ACS) as standard. The system continuously monitors and optimises crusher performance and controls the complete lubrication system, increasing uptime and reliability. It can automatically adjust crusher settings to compensate for crushing chamber wear, ensuring consistent product size.
In addition, the SAM by Sandvik digital service supports operational excellence in the plant. "SAM by Sandvik brings people, activities and data together in an easy-to-use, seamless and collaborative way. It allows both client and OEM remote access to the plant. The system itself provides a holistic view of the plant, enabling the customer to make informed decisions and the OEM to respond proactively to any equipment health and performance issues," concluded Benade.