The Volvo R60 rigid hauler offers a higher payload, fuel efficiency, durability, operator comfort, and remote monitoring while contributing to speedy cycle times and a lower cost of ownership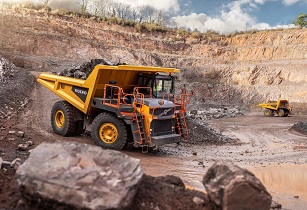 The Volvo R60 offers a higher payload, fuel efficiency, durability , operator comfort and remote monitoring. (Image Source: Volvo CE)
Higher payload capacity and volume
With a payload of 55 tonnes and a 36 cu/m body volume, the Volvo R60 rigid hauler can transport more materials in each cycle, allowing mining and quarrying operations to be carried out faster and more efficiently. The V-shaped body minimises carry-back and optimises load retention, while the On-Board Weighing System provides real-time payload insights for the operator.
Impressive fuel efficiency
Fuel is often the biggest cost in mining and quarrying operations, which is why the Volvo R60 is equipped with Volvo Dynamic Shift Control to adapt gear selection to varying conditions and an ECO mode that defaults to the most efficient gear shifting schedule. The auto engine-idle shut-down feature also eliminates unnecessary fuel consumption and engine wear.
Durable and long-lasting performance
The R60 hauler is built to last, with a 60,000-hour life frame and components designed for long-lasting performance. The low centre of gravity and balanced weight distribution provide rock-solid stability and evenly distribute loads and stresses across the machine. Additionally, the V-shaped body is constructed from high-impact and high-abrasion resistant steel, minimising the number of panels and welds for greater durability and lower repair costs over the machine's lifetime.
Greater operator comfort
The Volvo R60 features a high-strength, flexible chassis and responsive MacPherson strut with lower wishbone connection to absorb shocks and vibrations for optimal operator comfort. The air-suspended seat, ergonomically positioned displays and responsive fingertip controls all contribute to an effortless operation, improving efficiency and minimising operator fatigue.
Remote monitoring and site optimisation
The Volvo R60 rigid hauler is available with the Volvo CareTrack telematics system to enable remote machine monitoring and help boost efficiency even further. What's more, with the Volvo Site Simulation, recommendations on the optimum fleet configuration and site set-up are available from local dealerships.