The Manitowoc plant in Niella Tanaro, Italy, has expanded its capability to include production of Grove GRT8120 and GRT8100-1 rough-terrain cranes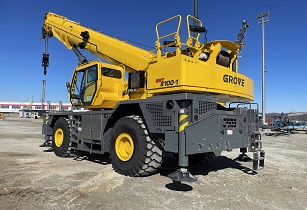 The GRT8100-1 replaces the older GRT8100 in the company's production offering. (Image source: Manitowoc)
Federico Lovera, product manager at the Niella Tanaro plant, commented "Expanding this plant's production lines reaffirms the strategic position of our factory for customers in the Europe, Middle East, Africa, and Asia-Pacific markets. Our Niella Tanaro plant continues to strengthen, with new capabilities and enhanced production. The GRT8120 is the largest Grove RT crane ever built at the plant, and we are excited to add it to our production line."
With a wider range of Grove RT cranes now offered from Niella Tanaro, customers in EMEA can benefit from locally produced cranes from a facility that embraces lean manufacturing.
The 120 t capacity Grove GRT8120 offers some of the most impressive characteristics of any two-axle rough-terrain crane on the market. In addition to a massive lifting capacity, the crane features a seven-section, 60 m MEGAFORM boom with a tip height of 80.8 m when used with the optional jib. It also offers the option of the MAXbase asymmetrical outrigger system, allowing greater flexibility on congested jobsites. A wider, full-vision cab with 20° tilt maximises operator comfort and visibility, and the operator further benefits from Manitowoc's Crane Control System (CCS) that includes the Boom Configurator mode for simpler set-up and on-board lift planning.
The other new RT crane is the GRT8100-1, which replaces the older GRT8100 in the company's production offering. The GRT8100-1 combines the wide cab and carrier of the GRT8120 with the superstructure of the predecessor GRT8100 to deliver a model that offers improved operation, easier servicing, and added jobsite flexibility with the MAXbase asymmetrical outrigger positioning. The 100 t capacity GRT8100-1 has a 47 m main boom, with up to 72.9 m of maximum tip height available.
Both the GRT8120 and the GRT8100-1 produced at Niella Tanaro are backed by a two-year warranty, reflecting Manitowoc's confidence in the reliability of its products.