Regional leaders from Manitowoc and its dealers from the Middle East, Africa, and CIS gathered in person to share best practices, discuss opportunities for growth, and review the outlook for the lifting segment at an event in Dubai, UAE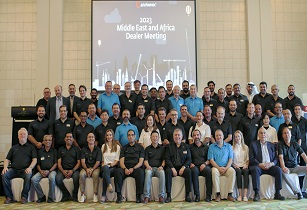 Dealers from the Middle East, Africa and CIS gather in Dubai. (Image source: Manitowoc)
One of the key focuses at the gathering was discussing opportunities for the three regions, and in particular looking at how the host of customer support services from Manitowoc can help customers gain a competitive edge. Services such as online or live training, EnCORE crane refurbishment, and predictive maintenance can help companies get more uptime and service life from their cranes, delivering better profitability. In addition, there were presentations on the latest technologies from Manitowoc, which are designed to further boost productivity for end users.
Andrew Youssef, Middle East, Africa, and CIS general manager at Manitowoc, commented, "The crane industry plays a central role in shaping the cities and communities of our regions, and every year there are bigger and more complex challenges. At Manitowoc, we pride ourselves on delivering the technology and solutions to meet those challenges, head-on. Our dealers play an essential role in our business, so this was a fantastic opportunity to share our thoughts and hear their feedback on how we can better align. It also gave us a chance to thank our dealers for the great work they do in helping us provide the best customer support in the business."
During the conference, Manitowoc held presentations on its Voice of the Customer (VOC) process and how it is harnessed in new crane development, as well as sessions on new product offerings, including POTAIN CONNECT and GROVE CONNECT, which are set to reshape crane ownership via improved customer experience, remote servicing, monitoring and management.
An awards ceremony was also held honouring the dealers who had achieved success in their regions. Some of the winners were: Kanoo Machinery which won the award for Best Deal and Largest Sales Turnover (mobile cranes); PSAL, which won the award for Highest Market Share (mobile cranes); CLT, which won the award for Highest Turnover from Parts Sales (mobile cranes); NFT, which won the awards for Highest Sales Turnover, Highest Market Share and Highest Turnover from Parts Sales (tower cranes); and AHS, which won the award for Best Deal (tower cranes).