The new MOBISCREEN MSS 802(i) EVO offers users a mobile, efficient screening plant that was designed to meet evolving challenges in different application areas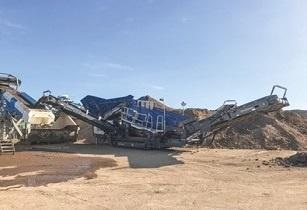 The MSS 802(i) EVO impresses with a feed capacity of up to 500 t/h in natural stone and in recycling. (Image source: Wirtgen Group)
With its well-thought-out plant design and flexible conversion options, Kleemann demonstrates how a high material flow can be guaranteed in natural stone and recycling applications.
With the development of the MOBISCREEN MSS 802(i) EVO, a new generation of screening plants and a successor of the MS 15 Z, Kleemann consciously places the focus on the user perspective. The technology behind the screening process must be easy and safe to use for all users. The new plant combines innovations in the process sequence with ergonomic design, optimised operation and a user-friendly maintenance concept.
With its proportionally controlled running gear, the plant can be quickly relocated either by a low-loader to the job site or within the building site. Apart from other improvements of the new MSS 802(i) EVO, folding of the side discharge conveyors without the need for disassembly reduces set-up times. Increased application variability is provided by a hopper rear wall that can be folded to three heights, which permits feeding of crushing plants with a lower discharge height. The large array of screen surfaces and simple adjustment of the screen parameters, which make rapid adaptation of the MSS 802(i) EVO to a very wide range of feed materials possible, reduce set-up times and thus personnel requirements and costs. Special highlights include the simple and fast conversion from 3- to 2-way grit. The MSS 802(i) EVO can therefore be used to produce and discharge three or two final grain sizes and the conversion is fast and simple.
An intuitive plant control with automatic start reduces the risk of operating errors and saves learning times. All relevant functions can be operated from a safe distance, which offers high work safety. The plant offers good access options and intelligent cleaning solutions, which minimise downtimes caused by maintenance. With all of these solutions, Kleemann placed the focus on the typical workday of users. This also applies to the standard series LED lighting, the optionally available extended lighting of work areas or the generously proportioned work platforms.