JCHX Mining and Construction Ltd., a mining contractor, has put in a large order with Epiroc, a leading productivity and sustainability partner for the mining and infrastructure industries, for equipment to be used at an underground mine in the Democratic Republic of the Congo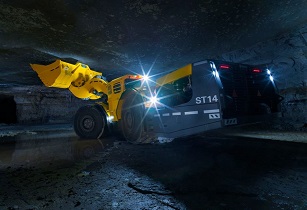 The Epiroc Scooptram ST14 loader is part of the order by JCHX Mining and Construction. (Image source: Epiroc)
JCHX has ordered several Epiroc loaders, mine trucks and drill rigs, including service support, for use at the Kipushi zinc, copper, germanium and silver mine in the Haut-Katanga province in southern DRC. The mine is owned by Kipushi Corporation, a joint venture between Ivanhoe Mines of Canada and Gécamines, and will be powered by clean, renewable hydro-generated electricity.
The mine was shut in 1994 but, last year, construction to re-open the site began, with late 2024 set as the target to start production.
"JCHX has been a customer of Epiroc for many years, both in Africa and Europe, and we are pleased to continue delivering innovative solutions that will help to optimize operations at Kipushi," said Sami Niiranen, president of Epiroc's underground division.
JCHX International division president, Youcheng Wang, added, "From the group headquarters to the front-line team, Epiroc sets the highest priority on this equipment order, also when it comes to on-site technical support."
The ordered equipment includes Scooptram ST14 loaders, Minetruck MT42 haul trucks, and Simba production drill rigs. The Scooptram and Minetruck machines will be equipped with Epiroc's telematics system Certiq, which allows for intelligent monitoring of machine performance and productivity in real-time, and with Epiroc's Rig Control System which makes them ready for automation and remote control.