A Chinese machinery manufacturer based in the Shanxi Province has exported its heavy-duty excavators to South Africa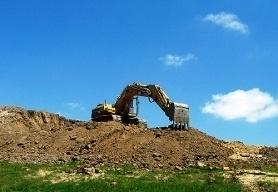 The Taiyuan Heavy Machinery Group has exported two WK-55 excavators to South Africa. (Image source: billjacobus1/Flickr)
A spokesperson from the Taiyuan Heavy Machinery Group, Cao Keshun said that the company sold two WK-55 excavators to South Africa.
The company had previously exported the same type of excavator to Chile in 2011.
"This type of excavator can be used in all kinds of mining enviornments. The product has great export potential," Cao said.
The Chinese firm is the first independent heavy-duty machinery manufacturing firm to be established in China and its products have been exported to countries around the world, with the African market being a new addition.
The African machinery industry has been experiencing a buzz currently with the world's biggest machinery show bauma Africa scheduled to take place September 2013. The best in the machinery industry across the world is expected to participate in the show. The success of bauma Munich has provided a timely boost the sister show in Africa.
READ MORE
bauma Africa chooses African Review as media partner for inaugural event
Success at bauma bodes well for African show launch