South African equipment manufacturer Bell Equipment has been granted distribution rights by Terex Finlay for the company's mobile crushing, screening and recycling equipment in South Africa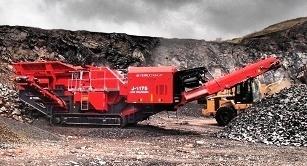 There is a growing market for crushing devices in South Africa. (Image source: Terex Finlay)
Terex Finlay sales and marketing director Nigel Irvine said, "South Africa is a growing mobile crushing and screening region and we are begining our partnership with Bell Equipment as a market leading brand.
"In Bell Equipment we have found a strong business partner. This offers us a great partner platform to further develop new Finlay equipment sales and also support the large existing population of machines across the region."
Bell Equipment group chief executive Gary Bell said, "The company is looking forward to growing its partnership with Terex Finlay and is pleased to be able to enhance its product range with the addition of a world class material processing product line.
"Our agreement will complement our existing product offering and is in line with our strategy to provide a one-stop shop for first class equipment solutions to our customers throughout Southern Africa."
The Finlay tracked mobile screener product line comprises of three-way split heavy duty forward facing, three-way and four-way split inclined and four-way split horizontal screening units.