Weba Chute Systems has commissioned 20 new Weba discharge chutes at the Dense Medium Separation (DMS) drum plant at Kumba Iron Ore's Sishen mine in South Africa's Northern Cape province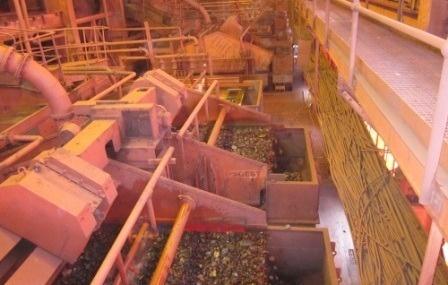 The new chutes are large enough to cope with present throughput, as well as future capacity increases. (Image source: Weba)
The order involved design, manufacture, supply and installation of the chutes to replace an existing set of 24 chutes, which had been operating for approximately 15 years and could no longer handle the steady increases in capacity.
This had resulted in frequent blockages, costly downtime and production losses. Existing chutes were also extremely worn and rusted.
A Weba statement said, "The new chutes are large enough to cope with present throughput, as well as future capacity increases. Since commissioning, there have been minimal transfer problems, but a follow-up inspection has been scheduled to ensure the chutes are performing to the required standards."
Ted Cruickshank, drawing office manager for Weba Chute Systems, "Each Weba Chute System will be custom designed for a specific application taking into account factors such as belt width, belt speed, material sizes and shape and throughput."
The official added that there were numerous advantages to be gained from this locally-developed transfer system, which when introduced on a new project, achieves the optimum design configuration for the application with the best belt cleaning arrangement and optimum selection of belt type and size.
Cruickshank also explained that Weba Chute Systems should not be compared to conventional chute systems but rather seen as an improved alternative.
"When one looks at the functioning of the machine in slow motion, it becomes apparent that the bottom layer of particles in the product stream moves in a tumbling motion and does not slide down the chute," he noted.