Trigon Metals Inc. has entered into a definitive agreement to expand its land holding in Namibia, through the acquisition of an exclusive prospecting licence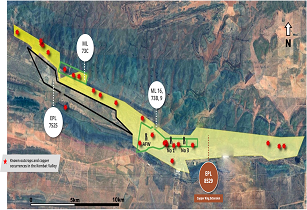 Map of Kombat Project. (Image source: Trigon)
Licence EPL 8529 surrounds Trigon's Kombat and Gross Otavi projects in the Otavi Mountainland, a region associated with high grade copper and silver mineralisation. It covers an area of 5,614 hectares and represents a potential strike extension of the Kombat project, with various known mineral occurrences on the property. Trigon management has extensive knowledge of the area and plans to implement an exploration programme in conjunction with its ongoing exploration work on the Kombat project areas.
Trigon, together with its Namibian subsidiary, Trigon Mining, entered into the agreement with current holders, Otjiwa Mining and Prospecting, for the acquisition of EPL 8529.
The agreement is subject to customary closing conditions, including approval from the Minister of Mines and Energy in Namibia for the transfer of the Licence from Otjiwa to Trigon Mining and the approval of the TSX Venture Exchange.
Jed Richardson, president & CEO of Trigon Metals, commented, "EPL 8529, referred to as the Copper King Extension, is an important part of the long-term future of the Kombat mine, the 35 km of prospective strike length has numerous copper showings that Trigon is eager to test for potential economic deposits of mineralisation. When surface drilling for near term open pit resources later this calendar year, drills will move to the new targets on the Copper King."