A 25.5-carat rare blue diamond has been unearthed at Cullinan mine in South Africa by the mine's operator Petra Diamonds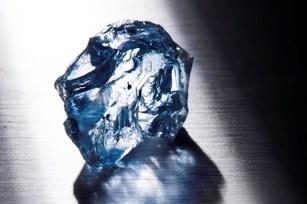 The blue diamond is worth more than US$10mm and give a tremendous boost to Petra's share price. (Image source: Petra Diamond)
According to a BBC report, experts have claimed that it could be worth more than US$10mn and would provide a tremendous boost to Petra's share price.
Similar finds in recent years from the Cullinan mine have commanded high prices and Petra, which operates in Botswana, Tanzania and South Africa, is expecting a high level of interest from buyers.
"It's very unusual for a diamond of this quality and size to come to market," said company spokeswoman Cathy Malins.
A similar 26.6-carat blue rough diamond discovered by the company in May 2009 was cut into a near perfect stone and fetched just under US$10mn at a Sotheby's auction. Another deep-blue diamond from Cullinan was auctioned for US$10.8mn last year and set a world record for the value per carat.