Gulfstream Energy's Molecule Management Solution will be deployed at the Gamsberg Project Site in the South African mining town of Aggeneys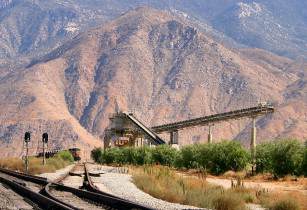 The Gamsberg Project Site is an open-pit zinc mine, which will have managed fuel solutions by Gulfstream Energy. (Image source: Chuck Coker/Flickr)
The Gamsberg Project involves the development, construction and commissioning of a four mtpa open-pit zinc mine, concentrator and associated infrastructure.
Gulfstream Energy's mining solution involves an 'over and above' procurement of actual fuel products, through the investment of on-site fuel infrastructure (including fuel tanks and pumps), stock on consignment and the placement of company staff at the Gamsberg mining site to co-ordinate and manage its mandate. In addition, Gulfstream has also deployed an automated fuel management system through a third party partner Gilbarco AFS. This allows for the effective management of all on-site fuel storage, dispensing, recording and real-time reporting providing up to the minute accurate information on fuel spend.
Black Mountain Mining, which owns the Gamsberg Project Site, had awarded the contract to Gulfstream Energy earlier this year, and the contract has been effective from August 2015.
Gulfstream Energy CEO Shane Jegels said, "This is of huge significance to Gulfstream Energy. To be part of the opening of the only greenfield open cast mining operation in South Africa this year, is a source of huge pride for us. Not only does it enable us to make inroads into a market sector traditionally the stronghold of the oil majors, but it is also unique with no other mining company to date having awarded a contract of this nature to an independent non-refining player."
Fuel is one of the most important components needed to keep a mine operational and mining operations require highly managed solutions, such as the Molecule Management Solution by Gulfstream Energy. Vedanta Zinc International CEO Deshnee Naidoo said, "With fuel one of our key procurement components, security of supply was non-negotiable. With its diverse supplier network, comprising over 26 depots and refineries around the country, we were confident that Gulfstream Energy would be able to meet our requirements."
The Gamsberg Project is owned by Black Mountain Mining – a 74 per cent subsidiary of Vedanta Limited. The remaining 26 per cent is owned by Exxaro Resources Ltd.