A new range of hydraulic clamshell buckets is now available for Bobcat E55W, E60 and E80 excavators.  In addition, the range of dipperstick-mounted hydraulic clamp attachments for the company's excavator range is now complete with new attachments for the E80 excavator model.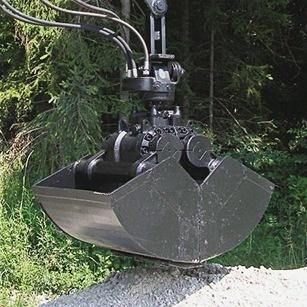 The new Bobcat clamshell bucket
Available in five widths from 40 to 80 cm, the clamshell buckets are supplied as standard with hydraulic opening and closing as well as a hydraulic rotator, offering infinite revolutions clockwise or counter-clockwise.  All the models are available with a pin-on mount or a Lehnhoff mount system. 
Mounted free-hanging on the dipperstick of the excavator, the clamshell buckets have two sets of two-way auxiliary hydraulics to utilise the two hydraulic circuits.  One circuit controls the hydraulic opening and closing of the bucket, whilst the second hydraulic circuit controls the infinite rotation left or right. The clamshell buckets have a compact and robust design, owing to the new HPX maintenance-free drive system for bucket shell control, which eliminates the cylinder and ensures a constant closing force for easy digging. 
The clamshell buckets have a cardanic upper suspension linking the coupler and the hydraulic rotator which allows free movement in two directions, ensuring that the clamshell bucket hangs straight, independent of the position of the excavator. The compact gear-type design of the hydraulic rotator allows precise control of the approach and stop movements of the clamshell bucket.  Standard pressure relief valves protect against overloading. 
Full closing force is delivered from the beginning of the digging process, when the shells are in the opened position, to ensure powerful penetration in heavy soils, as well as when the shells are closed, to optimally compact the material.  Exchangeable shells permit a wide variety of applications and offer long service thanks to very durable hard-steel cutting edges (500HB) with standard bolt-on and replaceable teeth. 
The hydraulic clamp attachments for the E80 excavator are easy to mount and use. They are available in two versions, a short clamp recommended for use with pin-on buckets, and a long clamp recommended for use with Klac or Lehnhoff systems.  The opening and closing of the clamp is controlled via the standard auxiliary hydraulics of the excavator.
The hydraulic clamps are designed for any application involving picking and placing of objects with the Bobcat E80 excavator.  Used in combination with a trenching bucket, the hydraulic clamp functions like a human thumb, allowing the operator to grasp, lift and place broken concrete and asphalt, tree stumps, stone blocks and other objects, fast and accurately.