Visitors to bauma 2022, 24-30 October in Munich, will be able to view two new Grove all-terrain cranes in public for the first time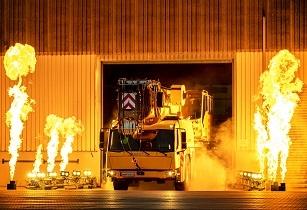 The GMK5150XL all-terrain crane. (Image source: Manitowoc)
Both the GMK5150XL and Grove GMK5120L are expected to be popular exhibits at the Manitowoc booth and attendees will have the chance to observe the cranes up close and hear from product experts involved in their design.
"We presented the GMK5150XL and GMK5120L during customer events at our Wilhelmshaven facility in Germany last year. But having them on the booth at bauma will introduce them to a much larger audience," said Andreas Cremer, vice president of product management for mobile cranes at Manitowoc.
"We are thrilled to present these cranes at the world's largest construction equipment exhibition and are expecting lots of interest. In recent years, Grove has led the way in the five-axle all-terrain class and these two new models raise the bar. Their outstanding taxi crane features, strength, and reach redefine what's possible with a five-axle machine in the capacity classes of 120 t and 150 t."
The Grove GMK5150XL all-terrain crane provides increased capacity and is redefining the five-axle, 150 t class by offering almost 69 m of main boom. At 68.7 m it can handle 8.1 t; at 66 m it lifts 9.5 t and at almost 60 m it lifts an incredible 13.0 t.
The GMK5150XL's load charts in taxi configuration ensure easy roadability and transport savings for owners. Counterweight slabs are interchangeable with those from the GMK5120L or any other Grove 150 t crane, further simplifying logistics and handling. The flexible counterweight configurations enable setup to be tailored to customer needs. Taxi configurations start from just 1 t of counterweight and for configurations of 12 t per axle, the GMK5150XL can carry up to 10.2 t of counterweight. There is also a heavyweight counterweight configuration of 16.5 t per axle, which makes it possible to drive the crane with an outstanding 30.9 t of counterweight on board.
The 120 t capacity Grove GMK5120L is equally as impressive as the new 150 t GMK5150XL, offering exceptional reach with its extraordinary 66 m main boom. With this versatile all-terrain crane, Grove expands its range with another taxi crane that enables customers to benefit from greater flexibility and lower transportation costs. The crane can easily adapt its onboard counterweight to suit the job — no matter if that's 10 t, 12 t or 16.5 t per axle.
With compact dimensions of just 14.195 m overall length and 2.75 m width, the GMK5120L offers superb access to jobsites, complemented with great maneuverability from Grove's MEGATRAK independent suspension.
Both the GMK5120L and the GMK5150XL come with the latest generation of Grove carrier cabs, providing increased operator comfort and convenience. The new cab design seats the operator an additional 235 mm from the centerline, enhancing visibility and maneuverability.
Customers can experience this enhanced operating position themselves when they see the crane at Manitowoc booth number FS1202.