The Crosby Group, a leading manufacturer of rigging, lifting, and material handling hardware, will display its wide range of lifting solutions for the future of construction and building at bauma 2022, taking place in Munich, Germany, from 24-30 October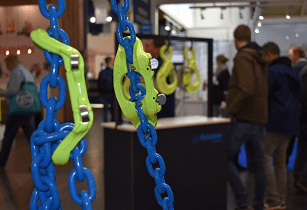 The company's range of Gunnebo Industries' products include the GrabiQ Grade 10 chain sling. (Image source: The Crosby Group)
The Crosby Group will show its premier brands, including Crosby, Gunnebo Industries, Crosby Straightpoint, Crosby BlokCam and Crosby IP.
bauma visitors will get a chance to learn more about the new Crosby BlokCam X3L and M3L crane camera systems that extend the legacy of the original X2 and M3 systems. The X2 is renowned as the industry's first fully modular system compatible with tower cranes, while the M3 is the first fully modular camera for telescopic and mobile cranes which can be installed in just five minutes. New versions include a new transmitter that can connect up to one or two sensors upon request; a repeater that comes with ball joint mount (reducing the ports required); new sensor with integrated audio and video plug; and assembly with an improved Wi-Fi signal. X3L and M3L versions are also available with a state-of-the-art lithium-ion battery and charger.
Crosby-branded solutions that will be displayed at bauma also include a range of shackles and Crosby IP clamps. The shackle is one of the most powerful, important, irreplaceable pieces of material handling equipment there is.
The company's range of Gunnebo Industries' products include the GrabiQ Grade 10 chain sling, an all-inclusive sling system for coupling, shortening, and lifting in the construction industry. GrabiQ gives users the guarantee of correctly sized components for the size of chain, so stockholding for distributors is minimised. The Midgrab is an inline shortener that allows the rigger to adjust the sling anywhere on the chain, not only at the top assembly, significantly reducing the time needed to adjust a sling.
Also at the heart of The Crosby Group portfolio is its Crosby Straightpoint range of load monitoring hardware and supporting state-of-the-art software, including its most popular load cell, the Radiolink plus. The long-range, 2.4GHz version provides an industry-leading wireless range of 3,280 feet to the manufacturer's SW-HHP handheld or software options. A Bluetooth output version can be connected to any smartphone running its free HHP app on iOS or Android at ranges up to 328 feet. These products frequently combine below-the-hook of tower and mobile cranes with Crosby shackles.
To learn more about these solutions, visit the Crosby Group at Hall / Booth C4.33.