MB Crusher has introduced MB-HDS series, a new generation of shaft screeners at bauma 2019 with an aim to manage different types of materials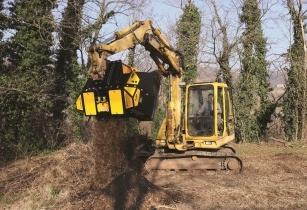 The new MB-HDS series selects and crushes excavation and demolition materials. (Image source: MB Crusher)
Designed with an approach towards reducing waste and increasing the profitability of the construction site, the MB-HDS shaft screener is set to adapt to different types of work and different materials.
According to the company, the machine aims to process different kind of waste rubble, which can be turned into re-usable and profitable material.
"The new MB-HDS series selects and crushes excavation and demolition materials, asphalt, coal, organic materials, wood, bark and light plastics, also it enables products to be re-purposed immediately. It is possible to transform one material into another," said Diego Azzolin, production director at MB Crusher.
"The new system reduces noise levels by 40 per cent when processing materials, in accordance with the regulations, thereby eliminating the need for exterior noise-control systems," Azzolin further added.