Italy-based MB Crusher, one of the leading providers of crusher buckets, has announced to showcase a range of crushing solutions at bauma in Munich, Germany, from 8-14 April 2019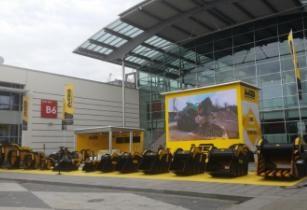 The company will present its wide range of crushing solutions during bauma 2019. (Image source: MB Crusher)
MB Crusher provides solutions adaptable to all work sites including construction, demolition, quarrying, trenching, and to all types of machines such as excavators, skids, loaders, backhoes and telehandlers.
MB Crusher will be present in three areas.
In the outdoor area, #FN 832/9, a working yard will be set up, displaying buckets at work such as crusher, screener, cutter including the latest release, the small MB-R500. The showroom in the Atrium between the pavilions A6 and B6 will be the company's promotional point during bauma 2019. MB will also be present in an internal booth, hall B5, number 424.
As crushing and recycling become key aspect also for roads construction operations and the need to make the most of all available material has prompted operators to use the waste material, it is important to find new solutions to recycle inert waste at low cost, according to MB Crusher.
MB Crusher product ranges crush, sift, grind and process material directly on site, thus saving transport costs, maintenance costs, purchase cost of inert material and time. These are certified and designed to reduce noise and dust.
An MB Crusher customer from Lebanon reiterated that MB crusher buckets can process all extracted material in order to render it re-usable directly on-site or sold for other applications. The precision of production allows for materials which were previously destined solely for disposal to be processed.
"We chose an MB Crusher Bucket for this reason," said Abdallah from Abdallah General Contracting Company (AGCC). According to him, the MB bucket crusher was the solution for reducing costs and speed up work.
"We saw the MB units in 2012 and we were impressed. They got my attention, a smart innovation with lots of benefits. That's why we decided to buy one unit from MB local dealer Abdelmassih Trading Company (AMTRAC) and install it on our Volvo excavator," noted Abdallah.
The 3.5-tonne BF90.3 bucket crusher is crushing more than 180cbm of materials per day, six days per week filling on average five to six trucks per day. AGCC is using five bars on the MB crusher to get the ideal particles size to be used as first and second base course layers.
"A problem-free machine, six working years with no downtime," concluded Abdallah.
For more information, please visit www.mbcrusher.com/en/in/