Hyva, one of the leading global providers of heavy transport solutions for the commercial vehicle and environmental service industries, will showcase a selection of its latest products at bauma from 8-14 April 2019, in Munich, Germany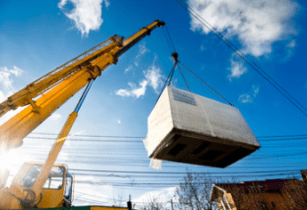 Hyva will present the latest solutions for container handling, lifting and loading and. (Image source: Hoda Bogdan/Adobe Stock)
The new HC235e and HC131K cranes will also be on display on the company's indoor stand. The outdoor stand will feature the HC661C, HC91X, HB160, HT240, HC243, HA14 and Kennis e-Power crane.
"All new cranes feature many innovations including the dynamic load diagram, which provides advance verification of crane lifting capacity based on truck stability, and the magic touch, which allows automatic folding and unfolding to transport and working positions. Both features improve driver attention and can save time and increase productivity," explained Hyva.
On Kennis e-Power rolloader cranes, the electric engine unit is comprised of a battery pack, an electric motor and a smart electronic control system which optimises power supply and allows the batteries to be recharged while the vehicle is in motion.
"Electric power, rather than conventional diesel power, offers considerable additional benefits including improved energy efficiency and lower environmental impact – no exhaust fume emissions and lower noise levels. It also provides a much healthier working environment for crane operators as they no longer need to work with the noise and exhaust fumes from a diesel engine," the company noted.
Hyva's Titan range of skiploaders and hook loaders will be on display during bauma 2019. The re-engineered Titan skiploaders have been designed with new remote controls, weighing systems and cranked lifting arms. They aim to deliver significant benefits to the skip industry in terms of efficiency, productivity, safety and environmental care.
Two complete tipping kits including tractor or silo trailer kit FC179 and rigid tipper HD mining kit FC A157 will be on display during the show.
"Using digital, sensor-based monitoring to deliver real-time alerts and warnings to the driver, Hyva Smart provides an environment in which drivers are supported to make optimum decisions at any given time," added the company.