Cummins has announced that it will feature an electric prototype mini excavator at the bauma show from 8-14 April 2019 in Munich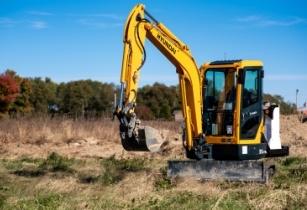 Electric excavator on trial. (Image source: Cummins)
"At Cummins, our strategy is to develop diversified, dependable power solutions. With a 100-year-long track record of powering our customers' success, Cummins will demonstrate once again to bauma visitors that we are transforming our industries, and innovating the latest alternative power solutions," said Julie Furber, executive director – Electrified Power.
"We look forward to continuing to partner with companies like Hyundai to design and test the construction industry's latest technologies," added Furber.
Powered by Cummins BM4.4E flexible battery modules (4.4 kWh each), the 3.5-tonne Hyundai excavator prototype is designed to support a full work shift and charge in under three hours. The machine eliminates all gaseous emissions and substantially reduces noise, making it ideal for use in urban and suburban construction.
The excavator contains eight BM4.4E modules connected in a series configuration to provide total energy of 35 kWh. Mounted near the base of the excavator, the Cummins-designed and in-built battery modules utilise Li-ion technology to achieve a higher energy density and proprietary control technology to maintain the battery state-of-charge for a longer zero-emission range. The modular design also allows for scalability to other applications and duty cycles.
Cummins will also be celebrating its 100th anniversary at the show. Visitors will be able to see where it all started, with the company's first engine known as the HVID and it will be shown alongside the latest B6.7 2019 Stage V engine, highlighting 100 years of engine innovation.
Alexei Ustinov, vice-president off-highway engine business, commented, "Our centenary theme is 'challenging the impossible' reflecting the spirit of innovation of our founder Clessie Cummins which lives on today in our current employees. Throughout the 100 years, Cummins has proven its dependability to our customers by developing market-leading products, and we will continue to do this into our second century."