Articulated dump truck (ADT) specialist, Bell Equipment, will demonstrate its drive in meeting customer needs via specially designed industry solutions at bauma 2022 by showcasing the next generation of the two-axle ADT Bell B45E 4x4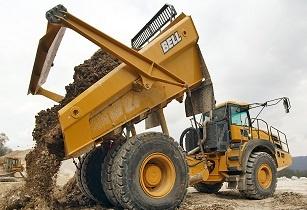 The Bell B45E 4x4 is aimed at small to medium sized quarry operations. (Image source: Bell Equipment)
The three-piece fleet of Bell's ADT 4x4's is individually aimed at different market segmenst, thus meeting the client's needs whatever they may be. The upper end Bell B60E 4x4, which boasts a 55 t payload, is a benchmark for all-weather operations on undulating ground in open cast mines or large quarried. Alternatively, the Bell B30E 4x4, with a 28 t payload, is a compact and highly economical solution for sand and gravel pits, material handling or underground operations.
The second-gen Bell B45E 4x4, with its 41 t payload, is designed for small to medium sized quarry operations where it competes against rigid trucks in the 45-50-tonne class or 6x6 ADTs with payloads of 40 t or more.
In wet weather, conventional 4x2 rigid tippers quickly reach their limits, whereas the all-wheel drive and oscillation joint in the Bell B45E 4x4 ensures high traction, and the retarder and service brakes can be applied in a controlled manner, even under full loads, due to the constant ground contact by all tyres. The high power to weight ratio keeps cycle times low in difficult weather conditions as well as extend production time in exposed quarries.
In addition, the Bell B45E 4x4 can also be used in overburden or new excavations. While this machine does not excel in soft underfoot conditions like its 6x6 counterpart, its twin-tyred single rear axle brings substantial advantages over the 6x6's ADT tandem axles on hard roads. Greater manoeuvrability is achieved through the shorter rear chassis, which, together with the rock bin typical of quarries, results in faster cycles on the quarry faces.
The Bell B45E has benefitted from numerous changes thanks to user feedback, most notably the suspension of the rear axle and the heavily modified bin to better match with the wheel loaders typical to small-to-medium sized quarries. The torque-optimised six-cylinder engine ensures high fuel efficiency, which is reflected in low consumption rates, and the standard Bell cab offers good visibility, high comfort and a complete package of driver-related assistance systems.
The machine will be on display alongside other Bell equipment models, as well as information regarding programme-wide development of its current E-series.