bauma, one of the world's leading trade fair for construction machinery, building material machines, mining machines, construction vehicles and construction equipment, will be held from 8-14 April 2019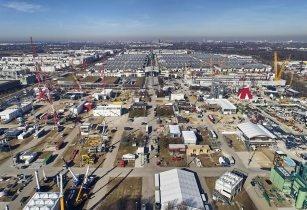 About 617,000 sq m of exhibition space, 3,700 exhibitors and 600,000 expected visitors. (Image source: bauma)
Around 3,700 exhibitors will present their latest products and innovations, as well as their biggest and heaviest machines in Munich.
Klaus Dittrich, chairman and CEO of Messe München, said, "The first exhibitors already began erecting their booths last year in November. We know of various companies that will be presenting more than 150 exhibits. More than 13,000 trucks and 600 heavyweight vehicles are in use for bauma. What we will experience in Munich during these seven days will be amazing."
Facts and figures
With 614,000 square meters, the world's largest trade fair has added around 9,000 sq m since the last fair. About 414,000 sq m of this is outdoor. The remaining 200,000 sq m are taken up by the 18 halls at the trade fair grounds in Munich.
About 3,700 exhibitors from about 60 countries will be present in the Bavarian capital. Of these, 80 exhibitors are using the new bauma PLUS programme.
With co-working areas, compact booths on shared areas and digital services, for the first time, Messe München offered participation options in addition to the classic booth. Background: The trade fair has been booked out consistently for years.
At present, the top 10 exhibiting countries after Germany (1,269) are Italy (549 exhibitors), China (401 exhibitors), Turkey (189 exhibitors), the UK (133 exhibitors), the USA (126 exhibitors), France (120 exhibitors), Netherlands (116 exhibitors), Spain (96 exhibitors), Austria (91 exhibitors) and Finland (56 exhibitors).
Webcam and selfie tower
For the first time, a selfie tower will be available in the north-east outdoor area. Built from 24 shipping containers, it offers visitors and exhibitors a 54-square-meter viewing platform at a height of 22 metres.
bauma app
The bauma app provides access to all the important information about the trade fair at all times. With a list of exhibitors, interactive hall and outdoor area plans, the supporting program with all events, and other useful information about the service facilities and opening hours, the app provides optimum assistance to organise the visit to the fair.