At bauma 2022, coming to Munich from 24-30 October, Bauer has received nomination for two innovation awards in the construction and research categories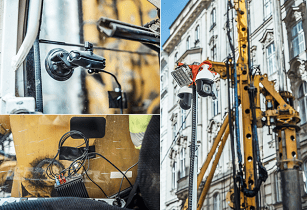 Digital recording with a wide range of data sources and AI analysis. (Image source: Bauer)
Bauer's Deep Sea Sampling project has been put forward for the research award which is aimed at electrifying a compact trench cutter and transform it into a smart, semi-automated vertical mining unit for the purpose of deep sea mining.
The project was launched in 2021 (to be completed in 2024) with Bauer expressing the need to develop new equipment and technologies to explore and extract new raw material deposits to meet expanding global demand.
Martin Sobczy, professor at the Mechanical Engineering Institute of the Freiberg University of Mining and Technology (project partners), commented, "This unit separates and characterises the extracted material during the mining process directly on the sea floor."
He explained that it should not only ensure a minimally invasive, efficient mining of resources, but also capture turbidity clouds generated by the work in a closed, shielded process.
The project and its innovative technology must compete with challenging conditions on the sea floor such as high water pressures, complete darkness and low temperatures.
Stefan Wegerer, project coordinator at BAUER Maschinen GmbH, noted, "Over the course of the research project, apart from the technological implementation, the ecological interactions will be investigated and new fundamental knowledge gained. The goal is to reduce the effects on the environment to a minimum."
Nominated within the construction category is Bauer's b.navigate, an additional tool to the BAUERdigital Portal which depicts and analyses the entire construction process in all its complexity. In addition to the existing equipment and production data, other key partial processes are recorded here that could not be depicted previously – such as the installation of concrete and reinforcement elements or the removal of drill spoil.
With the help of image recognition, intelligent cameras like the LivEye system, artificial intelligence and analysis of site production data generated in real time, the different main and secondary processes can now be identified fully automatically and used to optimise the construction process. The preparation of content and AI-based image analysis is accomplished using a platform from abaut GmbH, while the rule-based classification of the delivered data is provided by an application from fielddata.io GmbH.
"A digital twin of the site is created with all the relevant information about the current construction progress," explained Florian Bauer, member of the executive board of BAUER AG for the function of digitalisation. "b.navigate analyses the current production progress and identifies inefficient processes in this context. Based on this analysis, a direct decision can be made to improve the process."
The international bauma innovation award will be presented for the 13th time at bauma 2022.
The celebration of all 15 nominees and the announcement of the winners will take place on 23 October, the evening before bauma, in the Max-Joseph-Saal of the Munich Residenz.
The prize winners in the individual categories will also be presented on 24 October, in the bauma FORUM.