AMCS technologies, global provider of anti-collision safety systems for lifting equipment, will showcase its latest innovations during bauma 2019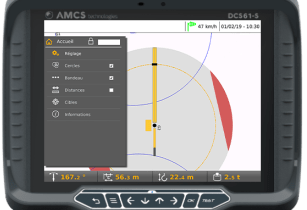 DCS 61-S. (Image source: AMCS)
The company's flagship product the Driving Control System (DCS 60) will be on display during the show.
This anti-collision system for lifting machines has demonstrated its efficiency, robustness, ease of installation and programming on many construction sites around the world such as Dubai Creek Harbor, Statue of Unity in India, Santiago Airport in Chile, Roland Garros in Paris.
The company will preview its own telematics called IoT Lifting. The DCS 61-S anti-collision systems can be equipped with a SIM card that can be used to collect precise data on each crane on a web portal and generate personalised statistics for each job site and companies. The main objectives of the IoT Lifting are to follow the productivity of the construction site with precision and remotely and to know the activity of the cranes every day.
In the prototype stage at the Intermat show, the company will reveal at bauma the SUP BIM, its construction site supervisor in BIM. It will make it possible to follow in real time the evolution of the construction site in three dimensions from anywhere but also to gather, to record and to visualise on a single screen the movements and the information of all the cranes equipped with the systems DCS 61- S or DCS 60.
These products aim to illustrate the company's ability to keep up with market developments, whether it is new standards, new generations of cranes, innovations and technological advances in the industry.