Volvo Trucks South Africa has announced the establishment of a new aftermarket and service dealer in Matsapha, Eswatini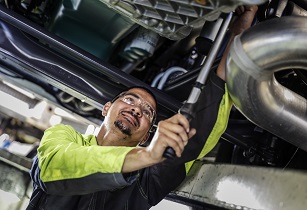 The Motruck operations are strategically located in the Matsapha industrial area. (Image source: Volvo Trucks)
The newly appointed dealer, Motruck, has more than two decades of experience in commercial vehicle service and maintenance, and vast knowledge of the local industry.
"We currently have 19 dealers in South Africa and representation in Botswana, Mozambique, Namibia, Zambia, Zimbabwe, and now in Eswatini. This move brings world-class support closer to some of the larger Volvo Trucks fleets operating in Eswatini, and cross border into South Africa," explained Waldemar Christensen, MD of Volvo Trucks South Africa. "With the Volvo Trucks vehicle parc continuing to increase, we are strengthening our reach with a focused strategy of bringing valuable support right to our customers' doorsteps."
The Motruck operations are strategically located in the Matsapha industrial area, with access to numerous major roads, including the MR3 highway. Several of Volvo Trucks' major fleet customers also have their depots and headquarters in the area.
"Through skilled technicians, genuine parts and specialised tools, Volvo Trucks dealers are committed to keeping our customers' trucks in peak condition and on the road as much as possible," added Christensen. "We believe that the quality of our dealerships and the level of sustainable support they provide along the major trade corridors in the region, adds significant value to our customers' operations."