The MD of Blinkwater Mills, in Mpumalanga, South Africa, Nico van den Berg, has added 10 Hino 700 Series trucks to his fleet
Two rigids and eight truck-tractors have been purchased.  Nico van den Berg says one of the main reasons for sticking to this brand is the relationship he enjoys with Hino South Africa and particularly with the dealer principal of Hino Middelburg, Gerhard Kotze.
"I have known Gerhard since we studied together at university in Bloemfontein and the first trucks I bought when I acquired Blinkwater Mills in Stoffberg in 1995 were four Hinos and I have remained loyal to the brand for most of the time since then, although I did use some trucks from a rival brand for a period of time," explained Van den Berg. "Although I appreciate the durability, longevity and reliability of the Hino trucks I put great store by the value of ongoing working relationships and that is what I enjoy with Gerhard and his dealership. This is a dealership prepared to go the extra mile.
"Mine is a high pressure business and I need top quality support for my fleet of 80 vehicles which are run as an in-house operation. For this reason it is a 100 per cent Toyota/Hino fleet, with 30 Hino trucks and the remaining 50 vehicles made up of Toyota Hilux bakkies and passenger vehicles. This means I only have to do business with one dealership and it is a bonus that it is part of the countrywide Barloworld Group," added the CEO of Blinkwater Mills.

The story of Blinkwater Mills is an amazing tale of success driven by one man – Nico van den Berg. He left a career at Genfood and bought the rundown Blinkwater Mills in Stofberg in 1995. It was producing 3,000 tonnes of milled maize a month at that stage. He had the facility demolished and rebuilt in 1998, which saw output soar to 14,000 tonnes a month. This mill is now being given a substantial upgrade, with high technology equipment – including robots - at a cost of R56mn which will boost production to 24 tonnes an hour after a year-long construction project. It is situated on a 17-hectare site that includes on-site storage facilities with a capacity of 65,000 tonnes.
Nico van den Berg decided to extend his operation in 2002 when the opportunity arose to buy a mill in Nelspruit with a capacity of nine tonnes an hour that was standing idle. This mill was subsequently upgraded and its capacity increased substantially. It is currently producing maize meal, but with the increased capacity that will be available in Stoffberg from the end of 2011 the intention is to switch the Nelspruit mill to producing flour from wheat imported through the Maputo harbour.

The 10 Hino 700 Series trucks purchased recently are all based in Nelspruit. They are 2845 double sleeper models. The truck-tractors pull trailers made by Icecold Bodies in Heidelberg and can carry loads of up to 24 tonnes. The rigids transport 14 tonnes each. The eye-catching tautliner cargo covers on the eight trailers and the two rigids are all brightly decorated by STS (Specialised Tarpaulin Services), of Wadeville.

Other Hino trucks in the fleet include 11 700 Series pulling bulk grain carriers, 500 Series rigids and a 300 Series. The Blinkwater Mills lifecycle for its trucks is five years, during which the units cover about 700,000 km.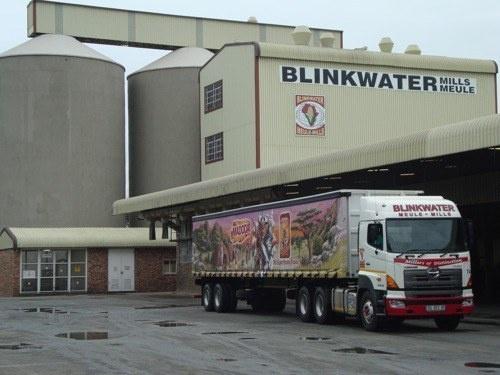 Where the enthusiastic chief executive showed initiative is that he decided to retail his productions directly to the customers instead of using middle men. To this end the company has set up 320 outlets in rural areas selling Blinkwater Mills' products – Madoda, Super B and Safuti – in brightly coloured bags from 1kg to 80kg as well as items such as sugar, salt and rice.

This direct selling has required an intricate distribution system and this is where the Hino trucks play their role. Employment has grown to 700 people and the business is driven by active marketing campaigns, which has stretched to the joint purchase of a radio transmitter for a Nelspruit radio station – Radio Kanyamazane – as radio is the most important promotional medium for Blinkwater Mills. Local schools also benefit from the marketing drive.