MAN Energy Solutions has announced its involvement in various African ventures including the supply of generation technology for a newly built power plant in Chad, the expansion of an existing plant in Niger, and the commissioning of another power plant in Burkina Faso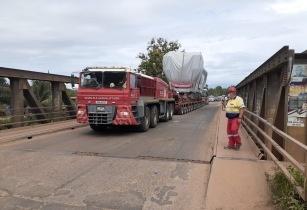 Engine transport of a MAN 18V51/60TS for a power plant extension in Kossodo, Burkina Faso. (Image source: MAN Energy Solutions)
Increased Chadian capacity
In Chad, the company will supply 4 × 18V32/40 CD engines to a new power plant providing a total of 35MW to the national grid. Currently under construction north of national capital, N'Djamena, the transport of the plant's heavy-duty engines and auxiliary equipment over more than 1,800km by truck from the port city of Douala, Cameroon, will prove a particularly challenging task.
"Currently, just 10% of Chadians have access to electricity. We are proud that we can now make a significant contribution to the electrification of the country with our engines in this new plant," said Ghassan Saab, head of power, MEA Region at MAN Energy Solutions.
Niger plant gets extra engine
MAN Energy Solutions is also involved in the expansion of a power plant near Niger's national capital, Niamey. With 4 × MAN 18V48/60TS engines already in operation on-site, the addition of another engine of the same type will add another 20 MW to the power plant's total capacity, bringing it to a total of more than 100 MW.
Successful commissioning in Burkina Faso
MAN engineers recently commissioned 3 × MAN 18V51/60TS engines for a power plant expansion in Burkina Faso. The plant in Kossodo, a suburb of Ouagadougou, will provide 55 MW of electrical power to the national grid, increasing the country's generation capacity by nearly 20%.