Cape Town crane manufacturer BB Cranes has upgraded its manufacturing capacity as part of a transition to becoming a wholly-owned subsidiary of the Condra group of companies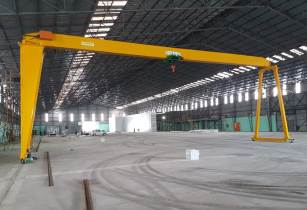 BB Cranes 5-ton portal crane for Everflo. (Image source: BB Cranes)
The acquisition is expected to substantially increase BB's share of the Western Cape market over time. It became effective on March 1.
Johannesburg-headquartered Condra is a leading manufacturer of custom-designed overhead cranes, portal cranes, jib cranes, hoists and general crane components for countries throughout central and southern Africa, as well as for specific countries in North America, South America, Asia and Eastern Europe.
Commenting on the new shareholding, BB Cranes director Barry Brink said that the additional resources of the Condra group would expand his factory's manufacturing and refurbishing capabilities, increasing capacity and improving productivity. Brink said, "We will be able to manufacture more cranes more quickly and efficiently than before, and we will be able to more energetically serve the Western Cape market. Our focus will continue to be on the Western Cape Province. Our intention is to reach additional customers and to expand our base of over 400 successful installations."
BB Cranes' staff and branding will continue unchanged. The company will operate independently within the Condra group, and existing staff will continue to service the customer base. A condition of the acquisition is that all staff retain their jobs. The management team is to remain in place, and the expertise of founder Barry Brink, now in semi-retirement, will continue to be available to all customers whenever needed.
Cranes made by BB have shown a steady increase in size over the years, from the 11-metre-span overhead gantry cranes manufactured in the original Paarden Eiland factory, to the 25 and 26-metre spans of recent orders made at the current works in Rivergate Industrial Park. Though the majority of new deliveries have spans and capacities of around 20 metres and 50 tons, the company has the ability to deliver cranes with spans of any length, and capacities of up to 250 tons. The majority of orders are for single and double-girder electric overhead travelling cranes, and for portal machines. There are four service teams to supply installation services, load testing, commissioning and maintenance capabilities. Recent contracts have included a 5-ton portal crane for Everflo (refrigeration systems), a 16-metre-span 20 ton portal crane for a local power station, and two 5 ton container handling portal cranes for Bumbo (baby products).