The new Suez Canal has been completed and successful trial runs have been initiated by several vessels, making way for a formal inauguration of the canal on 6 August 2015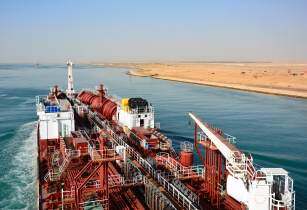 The new Suez Canal runs a length of 72 km and can accommodate two-way traffic. (Image source: AndrejPol/Shutterstock)
The 72-km new canal allows two-way traffic and can accommodate relatively large vessels, said officials from the Suez Canal Authority. The construction, which began a year ago, was carried out by a consortium led by a UAE-based company NMDC.
So far, the expansion has cost US$8.5bn and revenue from the project is expected to be around US$13.2bn by 2023. The 72-km long canal can accommodate 97 ships per day by then. In addition, there will now be a 11-hour southbound transit, as opposed to the earlier 18 hour transit, according to data presented by the Suez Canal Authority.
Abdel Fattah al-Sisi, President of Egypt said that the expansion of this canal – one of the busiest shipping routes globally – would boost trade and generate employment in the country.
It was Sisi who insisted that the canal construction be completed in a year, stated local reports. NMDC CEO Yasser Zaghloul said, "To realise this formidable task in record time, we deployed 26 dredgers and 40 additional pieces of equipment – an unprecedented number to have been deployed in a single project within a tight schedule of less than one year. The short duration of the project meant speeding up the ground deployment and logistic works."
One of the main challenges to accomplish this construction within a year was the dredging of 1.5 cu/m per day – a huge rate based on industry norms, added Zaghloul.
The Suez Canal, originally opened 150 years ago, handles around seven per cent of global seaborne business and is one of the main sources of foreign currency income for Egypt.