TII SCHEUERLE, an industry partner and specialist in heavy transport, has handed over six complete RBTS dolly systems to South African-based Vanguard, an industrial relocation and installation specialist
The equipment will be used as part of Vanguard's project to transport Goldwind rotor blades from the Port of Ngqura (also known as Coega), a deepwater port on the East coast of South Africa.
The blades are each 82.5 m long, requiring a transport rig with a total length of 95 m.
"With 78 sets arriving into Coega Port and each set containing three blades, a nacelle, a generator, a hub and containers, over 550 individual pieces of cargo are required to be transported 500 km to Noupoort," explained Joost Heystek, project manager at Vanguard.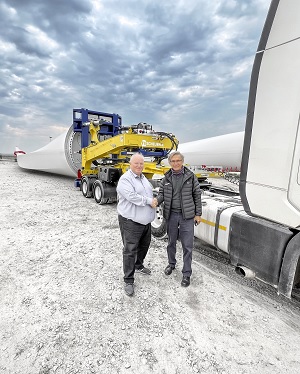 "This project has been months in the planning and it's great to see all of the preparation and engineering work come to life with the transport phase beginning."
To fulfil the project, extensive works have been carried out on the 500 km route with route surveys and swept path analysis conducted to understand pinch points. The project is now transitioning into the transportation stage, which will take place across the next 12 months.
The Rotor Blade Transport System (RBTS) provided by TII SCHEUERLE specialises in transporting rotor blades with length of more than 75 m across long transport routes and can even handle blades of more than 100 m.
The system consists of two-axle jeep dolly together with a free-turning device and a four-axle trailing unit. It is also possible to mount the free-turning device directly on the truck tractor.
Assembly of the wind blade is carried out according to the plug-and-play principle. With the help of a special lifting device, the wing root is comfortably picked up from the ground. The quick coupling solution is comprised of the free-turning device along with the root adapter and a root frame that is connected to the blade root. This frame can then be secured to the free-turning device quickly with the help of the adapter.
A clamping device on the trailer unit is used to fix the tip of the rotor blade into position. It can be adapted to accommodate rotor blades from several manufacturers. The manoeuvrability of the trailing unit combination is a notable attribute; the RBTS negotiates bends that cannot be mastered with a telescopic semitrailer without having to remove crash barriers or carry out widening measures.