Italian independent power producer Building Energy is the platinum sponsor for the 15th annual African Utility Week and Clean Power Africa, being held at South Africa's Cape Town International Convention Centre until 14 May 2015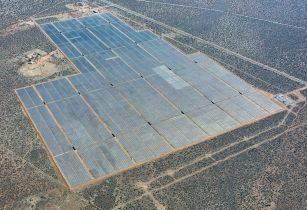 A view of the 81 MWp Kathu Solar Farm in South Africa, touted to be among the largest solar parks in South Africa. (Image source: Building Energy)
The African Utility Week and Clean Power Africa is a global conference and trade exhibition in the power and water utility industry, offering a unique networking opportunity for institutions and companies working in the field.
Building Energy CEO Fabrizio Zago said, "We are glad to sponsor the African Utility Week because it is Africa's leading power and water trade exhibition and therefore, represents a great occasion for the company to increase its visibility and strengthen its network of business partners. We are sure that this event will help us seize new business opportunities."
Building Energy mainly operates in Italy, Eastern Europe, USA, Japan, UAE, Central America and Asia, but has a particularly strong presence in Africa. Through its office in Cape Town, the company manages and coordinates the development and realisation of more than 30 projects in South Africa and in Zambia, Uganda, Mozambique, Cameroon and Lesotho. Among these, the 81 MWp PV project in Kathu and a 16.5 MWe biomass plant in Mkuze, both in South Africa, are noteworthy.
In December 2014, the company announced the construction of the first solar farm in Uganda, a 10MWp photovoltaic plant in Tororo.
Recently, Building Energy was awarded a wind and a small-hydro project as part of the South Africa's Renewable Energy Independent Power Producer Procurement Programme (REIPPPP) fourth bid round, becoming the first company to be developing projects across four different generation technologies – photovoltaic, wind, biomass and small-hydro.
The company has developed a distinctive business model which consists of managing every step of its projects directly, covering the entire life-cycle of its renewable power systems and installations. This model combines the technical engineering skills necessary for planning and commissioning a project, the financial know-how required to put the financial structure in place and managerial skills required to guide the entire development process.
The company's international expansion also takes advantage of strategic partnerships with leading local operators in the target markets. Alongside its industrial partnerships, Building Energy has also developed constructive relationships with local and national authorities involved in socio-economic planning, in order to maximise the participation of government institutions, efficiency of projects and the beneficial impact of the stimulus in the local area.