Hitachi Energy, a technology leader which is pushing to advance sustainable energy for all, has announced that it is delivering a comprehensive range of high-voltage equipment to Sinohydro Corporation Ltd., a leading hydropower construction company, to enhance NamPower's Kunene and Omatando substations in Namibia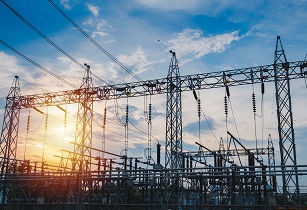 The construction of two substations will help strengthen the northern Namibia transmission backbone. (Image source: Adobe Stock)
NamPower is the Namibia's bulk electricity supplier and, in order to meet the country's rising electricity demand, is implementing two substations with the support of Sinohydro. The project is part of its Transmission Master Plan and will strengthen and expand the country's transmission network in order to ensure reliable power supply.
The construction of these two substations is reportedly crucial to strengthening the northern Namibia transmission backbone. For the project, Hitachi Energy has collaborated with Sinohydro for the supply of a comprehensive range of reliable high-voltage products including circuit breakers, instrument transformers, surge arresters and disconnectors to NamPower.
"We are proud to be collaborating with Sinohydro and NamPower in this key infrastructure expansion project that will contribute towards addressing Namibia's electricity supply challenges. As a leader in high-voltage technology, our well-proven solutions enable our customers and partners to achieve uninterrupted power supply while enhancing the safety, reliability and efficiency of power networks," said Malvin Naicker, managing director for Hitachi Energy Southern Africa.
Kahenge Haulofu, managing director of NamPower, added, "At NamPower, we strive to provide innovative electricity solutions in the South African Development Community (SADC) region. The Kunene and Omatando substation projects, which are in the implementation phase, form part of the NamPower Transmission Master Plan that is critical for improving energy reliability in the country. We are pleased to collaborate with Hitachi Energy on these projects that will help us achieve our goal of a more resilient power network in Namibia."