MICT, through its wholly-owned subsidiary, Tingo Foods, has entered into a partnership with Evtec Energy, to build a US$150mn net zero carbon emission solar plant to provide a sustainable and low-cost energy source for a recently-announced food processing facility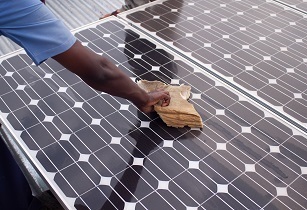 By constructing its own solar power plant, Tingo Foods expects its food processing facility to achieve net zero carbon emissions while also benefiting from considerable energy cost savings. (Image source: Adobe Stock)
The US$1.6bn Tingo Foods processing facility in the Delta State of Nigeria is scheduled to be completed by mid-2024 and is expected to multiply the food processing capacity and revenues of Tingo Foods. This will allow it to expand its current product range of rice, pasta, noodles, and other staple foods into new product areas such as tea, coffee, cereals, chocolate, biscuits, cooking oils, non-dairy milks, carbonated drinks, and mineral water. Through this first-of-its-kind facility in Nigeria, Tingo Foods aims to reduce Africa's reliance on the import of finished food and beverage products and to increase exports of made-in-Africa produce, which in turn is expected to reduce the prices of finished products and significantly reduce shipping miles and carbon emissions.
By constructing its own on-site 110MW solar power plant using the advanced energy-tech of Evtec Energy and utilising the technology of TAE Power Solutions Limited, Tingo Foods expects its food processing facility to achieve net zero carbon emissions while also benefiting from considerable energy cost savings.
The cost of the solar power plant is to be funded by Evtec Energy and their financial partners Credit Suisse, JPMorgan, and Roth. Additionally, through their partnership and collaboration, Tingo Foods, Evtec Energy and their technology partner TAE Power will explore similar projects throughout Nigeria and sub-Saharan Africa.
Dozy Mmobuosi, founder of Tingo Mobile Limited and Tingo Foods, commented, "Our partnership with Evtec Energy is a significant step toward establishing a sustainable and innovative future for Nigeria's and Africa's agro-industrial sectors. Our commitment to create jobs and boost economic growth is unwavering and through our collaboration with leading technology experts we can realise our vision of a green and prosperous future for Africa. This is just the beginning of our journey into the sustainable energy sector, and we look forward to exploring new possibilities for collaboration and innovation in the future."
Darren Mercer, CEO of MICT, added, "The addition of a sustainable energy zero carbon emissions power plant to our state-of-the-art food processing plant is yet another major milestone toward our commitment to the United Nations' Sustainable Development Goals and toward fulfilling our ESG objectives.
"In addition to the considerable environmental benefits gained from using on-site renewable energy to power what is expected to be the largest food processing facility in Africa, we will achieve a considerable saving against energy costs, thereby enhancing margins and the overall profitability of this hugely exciting and potentially vast business within our group."